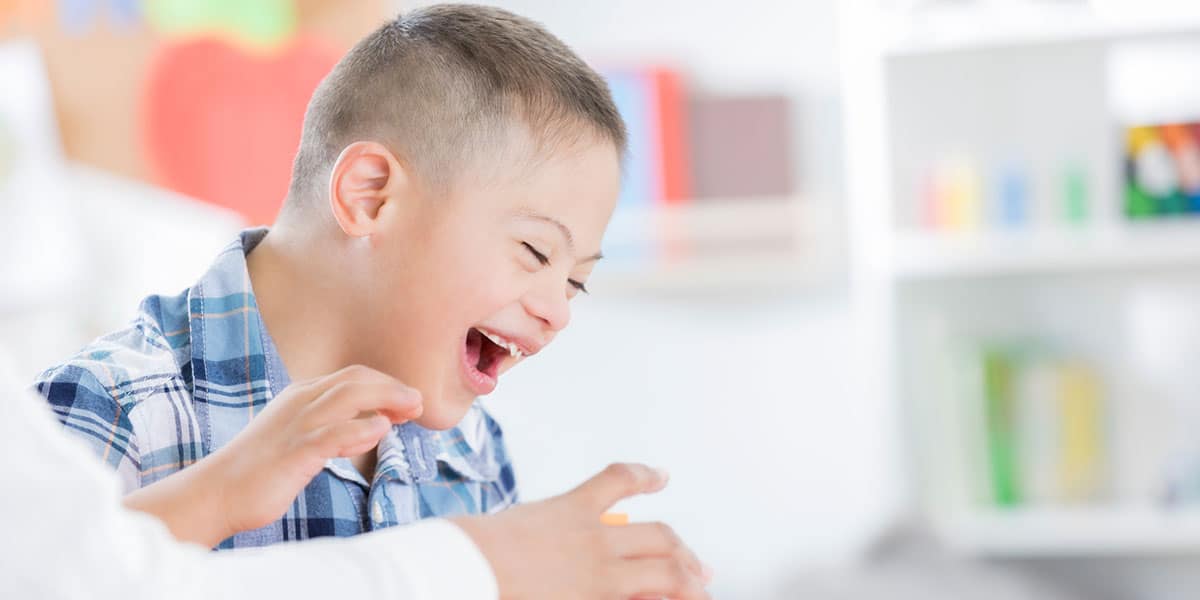 ---
Suffolk Pediatric Dentistry and Orthodontics provides special needs dentistry for children in Long Island, NY. Call us at one of our 5 locations in Port Jefferson Station, Wading River, Sayville, Smithtown, and Medford to learn more and schedule your appointment. 
At Suffolk Pediatric Dentistry, we're committed to providing all of our patients with exceptional dental care. This encompasses much more than simply taking care of teeth—it means doing what we can to make every visit to our office a positive experience. When working with patients who have cognitive, physical, or other developmental considerations, we adapt our services to their needs.
Pediatric dentists receive advanced training in providing dental care to patients with special needs, including both children and adults. We treat each patient as an individual, which means there are no standard protocols in place and we have no expectations going into an appointment—instead, we work with you to come up with a treatment plan that will make it possible for your child to receive the dental care they need in a way that feels safe and comfortable for them. Sometimes, this means your child is an active participant in their care; other times, we may need to use sedation for your child's safety.
As providers of special needs dentistry, we understand the importance of compassionate care. Our doctors, hygienists, dental assistants, and staff members are all focused on creating a stress-free experience for your child and also for you as a parent. We are happy to work with you in any way possible to accommodate your family.
---
How We Serve Patients With Special Needs
---
Over the years, we've found a number of strategies that work well for patients with special needs. These include:
Collaborating with your child's other healthcare providers and therapists to develop a comprehensive dental health strategy.
Assisting families in finding adaptive aids to make home oral hygiene practices easier.
Offering additional fluoride treatments or dental sealants as a safeguard against tooth decay for patients who have difficulties brushing.
Using the same doctor, hygienist, and dental assistant at each of your child's appointments for their comfort.
Respecting your child's boundaries and listening to their feedback.
Providing a variety of sedation options to ensure that visits to our office are trauma-free.
To allow us to prepare for your child's visit, please let us know about their needs before their first appointment.
---
Frequently Asked Questions About Special Needs Dentistry
---
What are special needs patients?
---
According to the American Dental Association, special needs patients are defined as anyone who has medical, developmental, physical, or cognitive conditions that require us to modify our usual dental procedures and treatments.
---
How do you deal with a special needs patient?
---
We treat all of our patients as unique individuals—we listen to their feedback, pay attention to the nonverbal cues they give us, and take into consideration the concerns and suggestions of their caregivers. During each visit, we take notes to help us anticipate your child's needs at their next appointment. Above all else, we treat every patient with respect, compassion, and patience.
---
Can my child be sedated for dental cleanings?
---
We do have the ability to sedate children for dental cleanings in extreme circumstances, but we prefer not to. Contact us prior to your child's appointment to discuss your concerns.
Are you looking for a pediatric dentist in Port Jefferson Station, Wading River, Sayville, Smithtown, or Medford, NY? Contact us today to make an appointment.