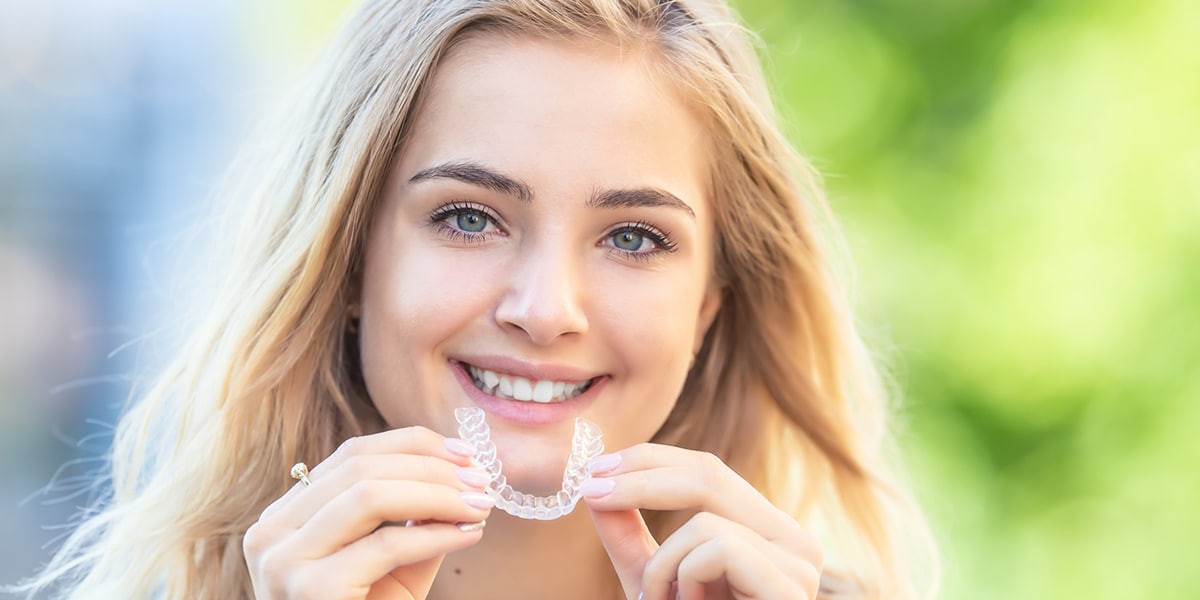 ---

Suffolk Pediatric Dentistry and Orthodontics provides Invisalign services in Long Island, NY. Call us at one of our three locations in Port Jefferson Station, Wading River, and Sayville to learn more and schedule your appointment. 
You don't have to feel self-conscious about orthodontic treatment. With Invisalign, you can achieve a straighter smile without traditional metal braces—and, if you're a parent, you'll be glad to know that the Invisalign system works just as well as braces.
Invisalign uses a series of clear plastic aligners to gradually shift teeth and correct malocclusions. We create a custom treatment plan to address your individual needs. In as little as a year, depending on your treatment plan; your smile makeover will be complete, without the hassle of metal braces.
---
---
Why Choose Invisalign?
---
Invisalign is an option for many orthodontic cases. Some advantages of Invisalign aligners include:
They're Virtually Invisible
Invisalign aligners are made with advanced SmartTrack® material, which is virtually invisible, so friends, co-workers, and classmates won't even notice them.
They're Comfortable and Convenient
No foods are off-limits, which most patients appreciate. Invisalign aligners can be removed, so popcorn, sticky candy, and gum aren't forbidden. Because they have no brackets or wires, Invisalign is more comfortable than wearing braces. Plus, there are never any worries about wires bending or brackets breaking off.
They're More Effective Than Ever
Invisalign has continued to develop new innovations to make its products better than ever. Invisalign can achieve results as fast as, and sometimes even faster than, traditional metal braces. With Invisalign Teen's blue compliance indicators, you'll be able to monitor your teen's treatment and make sure they're wearing their aligners for the recommended 20 to 22 hours a day.
When worn as directed, treatment time is usually 12 to 20 months. Invisalign SmartTrack material and SmartForce® features allow us to treat crossbite, crowding, open-bites, gapped teeth, overbites, and underbites in a predictable, controlled manner.
---
Invisalign Treatment Process
---
Your treatment plan is developed specifically for your orthodontic needs, but the overall Invisalign process is the same for everyone. Here's what it involves:
Scan Your Smile
We use our iTero scanner to create digital impressions of your mouth. This means there's no messy, uncomfortable impression material needed and with the impressions we take, we can create a 3D model that can be used to map our treatment.
Create a Treatment Plan
With Invisalign ClinCheck® software, we combine our insight with Invisalign technology to create a treatment plan that addresses your needs.
Preview Your Smile
With the 3D model we've created, we'll show you a preview of how your teeth will shift as your treatment progresses and what your smile will look like once treatment is complete.

Create Your Aligners
After finalizing your treatment plan, your custom aligners are fabricated using state-of-the-art 3D printing technology. Patients usually need between 20 and 30 sets of aligners.
Wear Your Aligners
For best results, Invisalign clear aligners should be worn for 20 to 22 hours a day. If you're a parent, you can use the blue compliance indicator to ensure that Invisalign Teen aligners are being worn as instructed; they should only be removed for eating, brushing, and flossing. Every few weeks, you will switch to the next set of aligners and your teeth will gradually shift into their new positions. Office visits every six to eight weeks will allow us to closely monitor progress.
Maintain Your Results
Once Invisalign treatment is complete, you will receive a set of retainers for both the upper and lower arches to help maintain your results. These retainers are typically worn all day in the initial weeks after treatment, and eventually they're worn at night only.
Call us today to schedule your appointment.