Suffolk Pediatric Dentistry & Orthodontics
ADDRESS
6144 Route 25 A, Suite D20
Wading River, NY 11792
Directions
HOURS
Monday | 8am - 5pm
Tuesday | 9am - 6pm
Wednesday | 9am - 6pm
Thursday | 8am - 5pm
Friday | 8am - 5pm
Saturday | 8am - 1pm
Sunday | Closed

Request an Appointment
---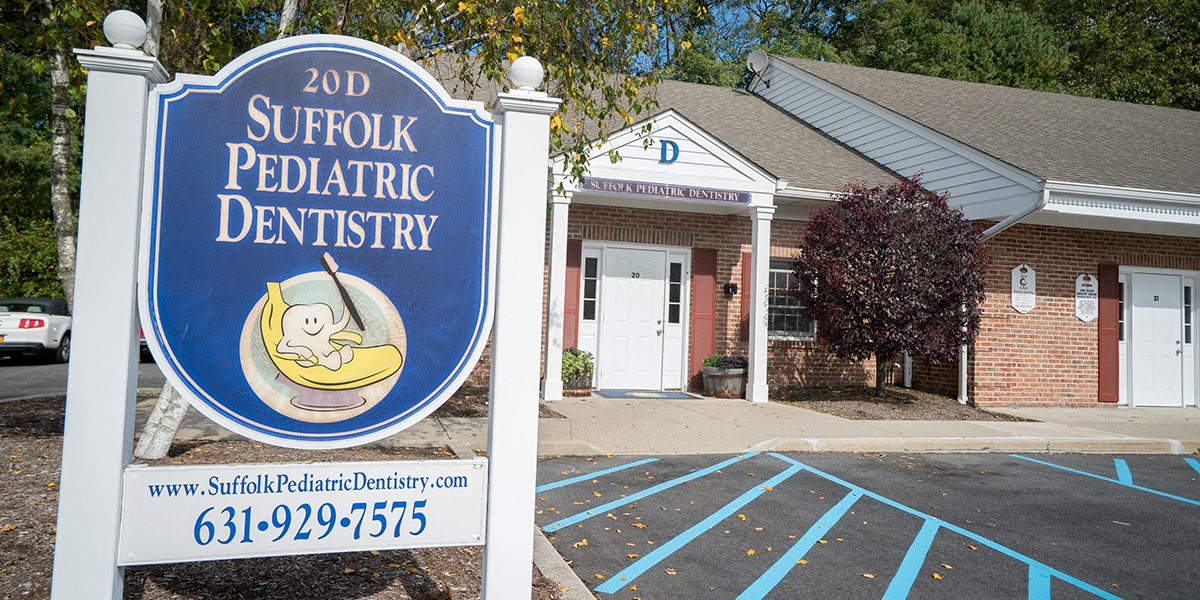 ---
Our Wading River pediatric dental practice provides comprehensive dental services for our patients. These include:
Preventive and Diagnostic Services – Preventive care is the heart of what we do at Suffolk Pediatric Dentistry. These services help us keep our patients' smiles healthy. Preventive care appointments are also when we provide dental instruction to empower children to take care of their teeth. Our diagnostic and preventive dental services include routine oral examinations, dental cleanings, imaging, dental sealants, and fluoride treatments.
Restorative Dental Services – Even with good brushing and flossing at home, kids can get cavities and damage their teeth. When this occurs, we turn to restorative dental treatments to restore strength and function to compromised teeth. Restorative treatments include amalgam and composite fillings, bonding, pulp treatment, and dental crowns. Sometimes, a tooth has suffered too much damage to fix; in these cases, we may need to extract the tooth to restore dental health.
Nitrous Oxide Sedation Dentistry – Kids should play an active role in their own dental care, but it's also important to ensure that visits to our office are trauma-free. We offer nitrous oxide sedation dentistry to keep your child calm and comfortable during their dental procedures.
Orthodontics – Our orthodontists offer early treatment, interceptive orthodontics, and Invisalign, as well as traditional braces. When orthodontic treatment is complete, we provide retainers to ensure that the results will last.
---
What does a pediatric dentist do?
Pediatric dentists are specialists who only treat children and patients with special needs. Although we provide most of the same services provided by general dentists, we do so with specialized equipment and a little more patience and understanding. There are also some treatments that are unique to pediatric patients, like baby root canals and pediatric dental crowns for primary teeth.
What is the difference between a dentist and a pediatric dentist?
Because pediatric dentistry is a specialty, it means that after graduating from dental school, pediatric dentists go on to receive an additional two to three years of education and training to prepare them for treating the unique dental needs (and temperaments!) of children. 
Should my child see a pediatric dentist?
We believe that just as most children see pediatricians for their healthcare, they should see pediatric dentists for their dental care. As specialists, we have more training, more knowledge, and more experience in treating young patients. We chose this specialty because we love working with kids—all three of our locations are designed with children in mind and our staff goes above and beyond to make sure each of our patients feels at ease when they walk through our doors.
When should kids start seeing a dentist?
We agree with the American Dental Association and American Academy of Pediatric Dentistry that children should start seeing a dentist around the age of 12 months or within 6 months of the eruption of their first tooth, whichever comes first. The purpose of these early visits is to help parents and caregivers understand how to care for their children's teeth and also to familiarize children with our office and staff so they're comfortable with dental visits.
How often do kids need to go to the dentist?
Kids, adults, and everyone in between all need to go to the dentist every six months for routine oral examinations and dental cleanings. Along with good home oral hygiene habits, these regular dental visits are one of the most important steps you can take to keep your child's teeth and gums healthy.