Sedation & Hospital Dentistry
---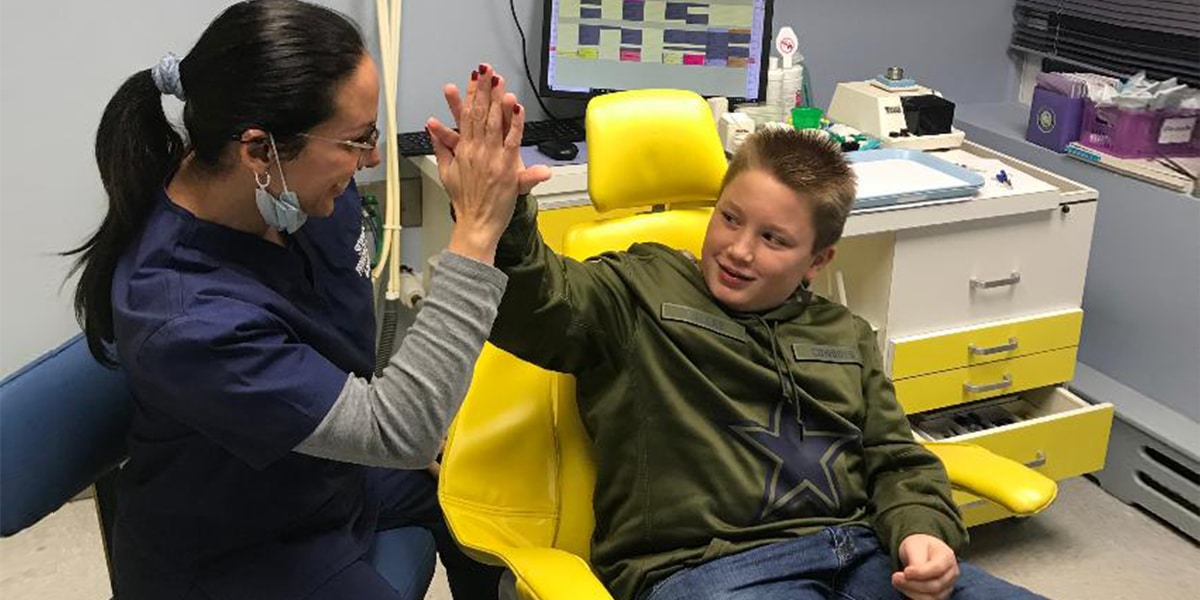 ---
Suffolk Pediatric Dentistry & Orthodontics provides sedation dentistry services in Long Island, NY. Call us today to learn more and schedule your appointment. 
We always provide gentle, empathetic care to all of our patients. Generally, this is enough to help the children we treat overcome any anxiety they may have about being at the dentist's office. However, we do offer sedation dentistry options for our patients who might need extensive treatment, have severe anxiety, or have special needs. By utilizing sedation techniques, either in-office or in a hospital setting, your dentist can better ensure that your child's experience with us is trauma-free.
If you think your child may need sedation dentistry for their procedure, please contact us before their appointment so we can discuss the right level of sedation for their needs. We offer:
---
Local Anesthesia
---
Local anesthesia is used for any dental procedure where there is the potential for pain. The use of a topical anesthetic alone or in combination with an injected anesthetic is a safe and reliable method used to numb a targeted area for a brief amount of time to make sure your child is comfortable while we work.
---
You may know nitrous oxide as laughing gas, but we know it as the ideal sedation agent for pediatric patients. It offers just the right amount of relaxation, with minimal risks or side effects. A small mask is placed over your child's nose so that she can inhale a mixture of oxygen and nitrous oxide. She'll start feeling the effects within minutes making for a pleasurable and relaxed experience. At the end of treatment, the effects will wear off just as fast once the mask is removed. Children feel comfortable, calm and happy with some also noticing sensations of tingling, heaviness in the limbs and a feeling of light-headedness.
---
General Anesthesia / Hospital Dentistry
---
General anesthesia is an option for patients who need extensive dental treatment and patients with special needs. Patients are given medication that allows them to sleep through their procedure. For your child's safety, we only perform dentistry with general anesthesia in conjunction with a licensed anesthesiology team at St. Charles Hospital.
---
Frequently Asked Questions About Pediatric Sedation Dentistry
---
Should I sedate my child for dental work?
---
You know your child best, but we are happy to share our recommendations if you'd like to discuss your child's care with us. Nitrous oxide is a very safe, mild form of sedation dentistry and it may be all your child needs to get through his appointment without anxiety. If you are considering hospital dentistry for your child, our doctors will  thoroughly  review this option with you so that you are comfortable moving forward with treatment. For children with special needs, we routinely recommend a team approach by including any of their treating doctors and/or therapists into this discussion.
---
Can my child be sedated for a dental cleaning?
---
We always first prefer to attempt a dental cleaning without sedation. If, however, in the opinion of the treating dentist, we feel that your child may benefit from the administration of nitrous oxide in order to relax, we may sometimes make an individual decision to use nitrous oxide for the dental cleaning.
---
Is pediatric dental sedation safe?
---
Nitrous oxide is very safe, with few risks or side effects. General anesthesia is also safe when performed in a hospital environment, but there are more risks involved. We will discuss those with you prior to your child's appointment.
---
How long does dental sedation last?
---
Sedation with nitrous oxide wears off within minutes of removing the mask. In fact, adults who utilize nitrous oxide at the dentist can even safely drive their car home immediately following their appointment. Local anesthesia typically lasts about 2-3 hours.
---
What are the side effects of nitrous oxide?
---
Some side effects of nitrous oxide include headaches, nausea, dizziness, chills, and sweating. It is also common to feel tingling or heaviness in the arms and legs.
Are you looking for a pediatric dentist in Port Jefferson Station, Wading River, Sayville, Smithtown, or Medford, NY? Contact us today to make an appointment.
---