SAYVILLE OFFICE: PEDIATRIC DENTISTRY & ORTHODONTICS
---
Suffolk Pediatric Dentistry & Orthodontics
ADDRESS
320 W. Main Street
Sayville, NY 11782
Directions
HOURS
Monday | 9am - 6pm
Tuesday | Closed
Wednesday | 9am - 6pm
Thursday | Closed
Friday | 8am - 5pm
Saturday | Closed
Sunday | Closed

---
Request an Appointment
---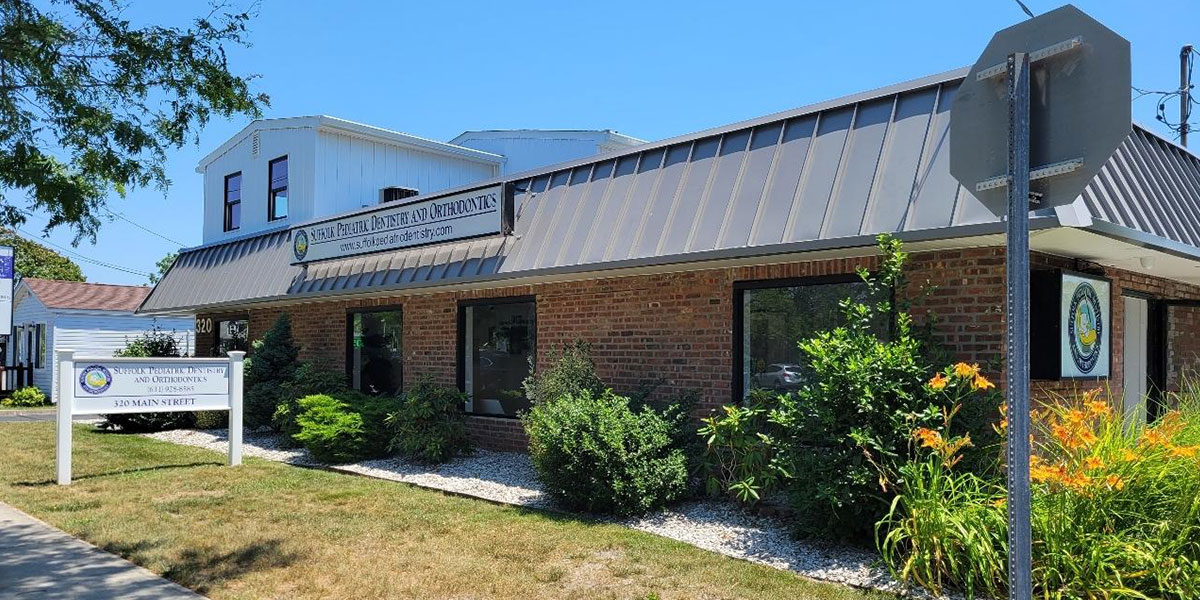 Our office is conveniently located in Sayville, NY, a short drive from West Sayville, Bayport, Oakdale, Holbrook, Ronkonkoma, Blue Point, Bohemia, East Islip, and Holtsville. Call us today to schedule your appointment!
---
Our Sayville pediatric dental practice provides comprehensive dental services for children. These services include:
Preventive and Diagnostic Services – Preventing dental problems is much easier than treating them, so we consider preventive care one of the most important services we offer. As part of our preventive and diagnostic care, we provide routine oral examinations, dental instruction to children and parents, dental cleanings, diagnostic imaging, dental sealants, and fluoride treatments.
Restorative Dental Services – Even if your child takes good care of their teeth, they can still get cavities or suffer other damage like chips and fractures. When these issues occur, we use restorative dental treatments like amalgam and composite fillings, bonding, pulp treatment, and dental crowns to restore strength and appearance. If a tooth has suffered more damage than can be fixed with these treatments, we extract it to restore your child's oral health.
Nitrous Oxide Sedation Dentistry – We want all of our patients to play an active role in their dental care, but sometimes it's better to allow children to sleep through their treatment or help them relax if they're feeling nervous. We offer safe nitrous oxide sedation dentistry to ensure that all appointments at our office are trauma-free.
Orthodontics – We offer a full range of orthodontic services, including early treatment, interceptive orthodontics, and Invisalign, as well as traditional braces. When orthodontic treatment is complete, we provide retainers to make sure your child's smile is beautiful for decades to come.
---
What does a pediatric dentist do?
Pediatric dentists provide dental care to children and patients with special needs. While we offer many of the same services provided by family or general dentists, we use specialized equipment and tend to have a little more understanding and patience with young patients. Although many pediatric dental procedures are the same as those provided to adults, there are some that are unique to children, like baby root canals, early orthodontic treatment, and crowns for primary teeth.
What is the difference between a dentist and a pediatric dentist?
Pediatric dentistry is one of a handful of dental specialties; like other dental specialists, pediatric dentists go on to receive two to three years of additional education and training beyond dental school. This training helps prepare us for the unique dental needs (and temperaments!) of children.
Should my child see a pediatric dentist?
We might be a bit biased, but yes, we believe that children should see pediatric dentists for their dental care the same way most children see pediatricians for their healthcare. Specialists simply have more knowledge, more training, and more experience, which leads to better treatment outcomes. In addition to this, a pediatric dental practice is built with children in mind. Visiting our office is fun for kids and our staff knows how to make each of our patients feel special and welcomed when they walk through our doors.
When should kids start seeing a dentist?
We agree with the guidelines of the American Dental Association and American Academy of Pediatric Dentistry that recommend children start seeing a dentist around the age of 1 year or within 6 months of the eruption of their first tooth, whichever comes first. During these early visits, we provide instruction to help you understand how to care for your child's oral health. We also make sure your child's teeth are erupting as they should and get to know your child so they're comfortable coming to our office.
How often do kids need to go to the dentist?
No matter what your age, you should see the dentist every six months—and yes, that includes even our youngest patients. Routine dental exams and cleanings are one of the most important tools we have to make sure kids have strong teeth and healthy gums.
---